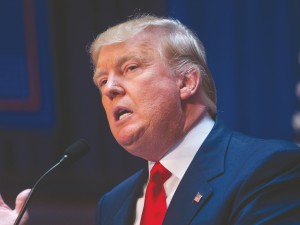 Donald Trump wants everyone to know just how really, really rich he really, really is. At a Trump Tower press conference last week to proclaim that he is a Republican presidential candidate, the real estate developer and reality-TV star waved around a piece of paper that he said demonstrated his net worth is $8.7 billion.
This figure is more than double other credible estimates of his wealth and raises the question of how seriously should we take Mr. Trump's latest claim. The short answer: Not at all.
For starters, Mr. Trump's financial "statement" said his real estate licensing deals, brand and branded developments are worth $3.3 billion—his greatest source of wealth. But there's no information documenting the income or cash flows generated from lending out Mr. Trump's name to casinos, condos or whatever. So you'll just have to take his word for it.
Mr. Trump also said he holds $302 million in cash and marketable securities. But there are some unusual qualifiers. For instance, Mr. Trump said he's counting cash "before the collection of significant receivables." Sounds like someone owes The Donald big-time. Who? Can he collect? After all, just because someone wrote an IOU doesn't mean they can pay.
One last point: Mr. Trump claimed that his financial statement has been audited by a "big accounting firm—one of the most highly respected." It would bolster the credibility of his statement if he would name it. Or perhaps not: Former Crain's Publisher Alair Townsend said it best back when she was a deputy mayor for Ed Koch and tartly observed that she wouldn't believe Donald Trump "if his tongue were notarized."
GOLDMAN TO LEND TO CONSUMERS
Goldman Sachs is preparing to launch an online consumer-lending unit. The new venture would rival Main Street banks and other online lenders in offering $15,000-to-$20,000 loans that carry low interest rates. The investment bank expects to issue its first loans next year.
AREA'S A&P STORES ON THE BLOCK
A&P, the owner of its namesake supermarkets as well as Pathmark, Food Emporium and Waldbaums, is unloading 137 of its stores in New York, New Jersey and Connecticut. Dozens of stores in the city—encompassing poorly performing and lucrative locations—are on the block, including 10 Manhattan Food Emporiums. A&P, with 301 stores and partly owned by Ron Burkle's Yucaipa Cos., has been struggling to turn a profit.
MARTHA STEWART NEARS SALE
Sequential Brands Group, which owns Linens 'n Things and Ellen Tracy, is close to buying Martha Stewart Living Omnimedia. If the deal closes, it would mark the end of an independent publishing and housewares conglomerate built by Ms. Stewart. Terms of the deal are being hashed out. Martha Stewart Living Omnimedia had a market value of $370 million last week, a fraction of what it was worth in 1999. Sequential buys brands and licenses them to retailers and manufacturers.
UNITED DEPARTS JFK
United Airlines will stop operating at JFK airport in October and move its overseas flights to Newark airport. The switch will let the airline increase the number of round-trip flights between Newark and the West Coast, as well as boost its premium-seating service for business travelers at Newark.
ARIANNA TO STAY AT HUFFPOST
Arianna Huffington has renewed her contract as chairwoman, president and editor in chief of her namesake online publication, ending rumors that she would exit the company she founded, given that Verizon now owns The Huffington Post.
CAR-FREE PARKS
More of Central and Prospect parks will soon be off-limits to cars. The city will permanently close to traffic a portion of the northern end of Central Park and the West Drive of Prospect Park.
IN MEMORIAM
JPMorgan Chase & Co. Vice Chairman Jimmy Lee died of a heart attack at the age of 62. Lee, who oversaw the bank's investment arm, was known for his work in the syndicated loan market and as a dealmaker advising major conglomerates like General Electric.
$100m Cornell Tech gift
Michael Bloomberg is donating $100 million to Cornell Tech. The money will endow the first phase of construction of the $2 billion Roosevelt Island campus, which includes the Bloomberg Center, an energy-efficient academic building that will be named after his daughters, Emma and Georgina. His gift was announced in advance of the groundbreaking ceremony, where Mr. Bloomberg shared the stage with his successor, Mayor Bill de Blasio, who credited his predecessor with spearheading the graduate school's creation.